A Hidden Gem on Isla Bastimentos:
Up in the Hill Coffee Shop
NOTICE: Our Coffee Shop is open only by reservation with our tour and lunch.
Come Visit our Coffee Shop:
Up in the Hill on Isla Bastimentos!
      Your stay in Bocas del Toro isn't complete without a visit to our Coffee Shop! Set on the highest point of Isla Bastimentos, it's a good 20 minute walk up to reach us. Passing through the afro Caribbean town of Old Bank and then onto a pretty jungle path before arriving to our farm. Come and enjoy our homegrown organic coffee while you listen to the chirps of the red frogs and songs of tropical birds overhead. The smell of cacao, coconut, coffee or herbs fill the air…depending what's being made at the time! The white faced capuchin monkey loves to steal the fruits from our surrounding trees so if you hear a rustle of leaves..do look up! We hope to see you at Up in the Hill soon!
Our menu is small but fresh and organic. We provide the majority of our menu straight from the garden. Delicious creamy golden milk made with fresh coconut and turmeric, spicy ginger kombucha, from farm to cup coffee and cacao are some of what we offer, as well as tasty home-baked goods using cacao and fruits.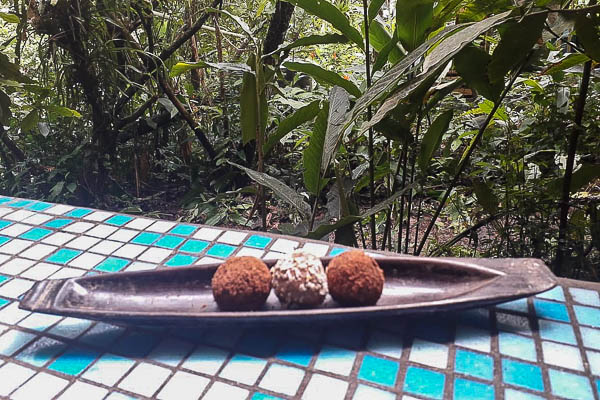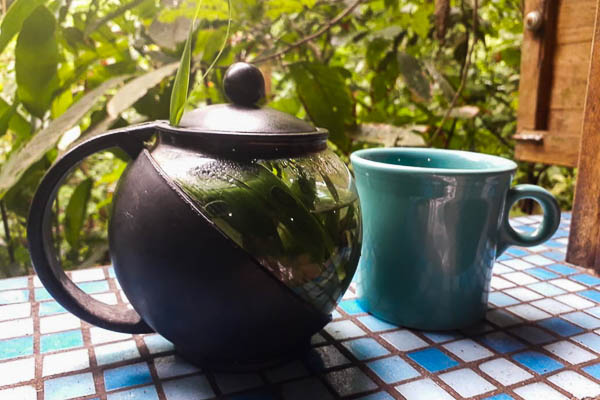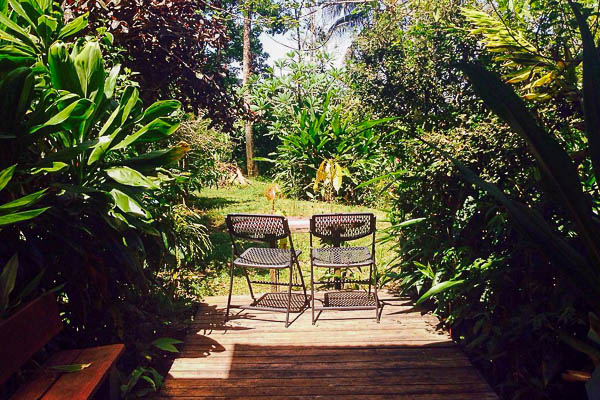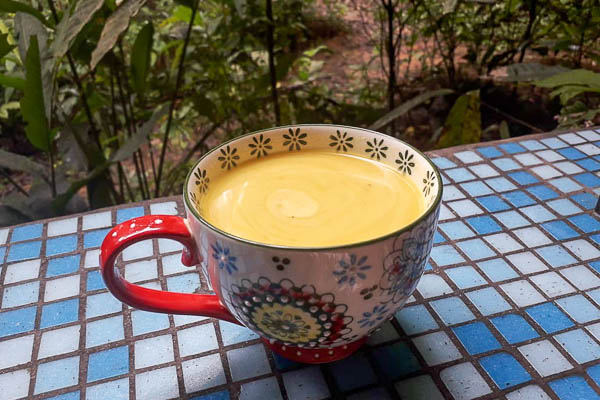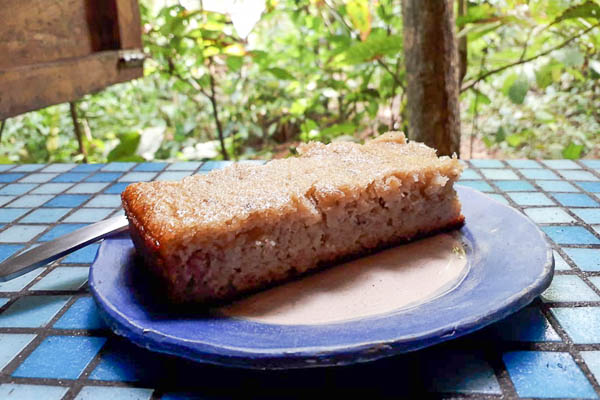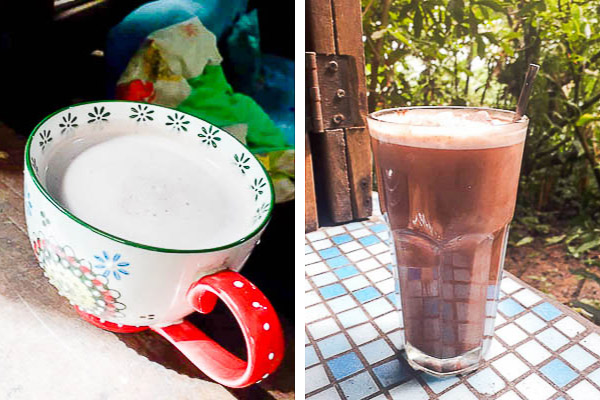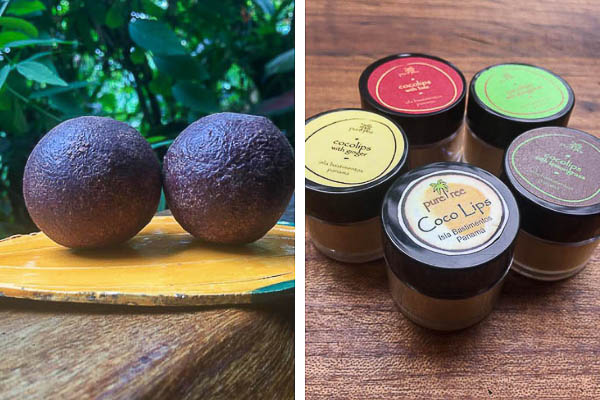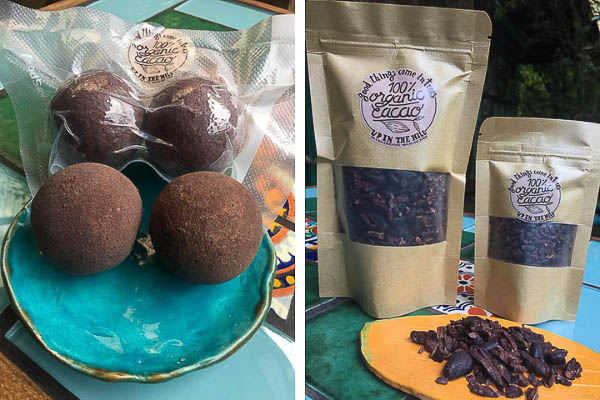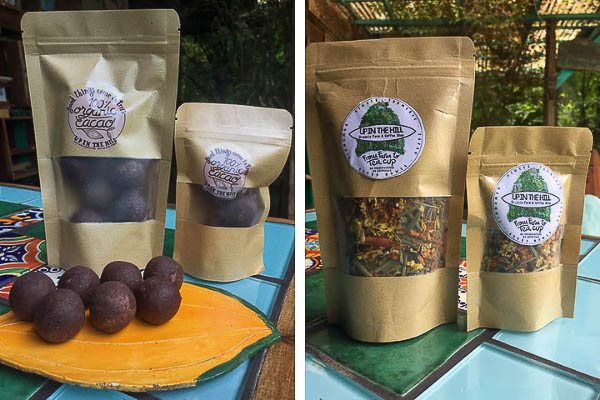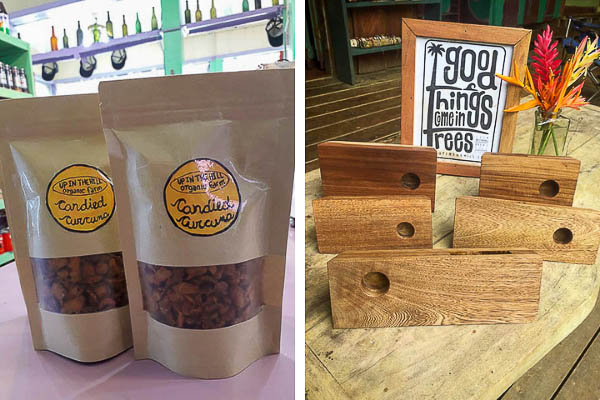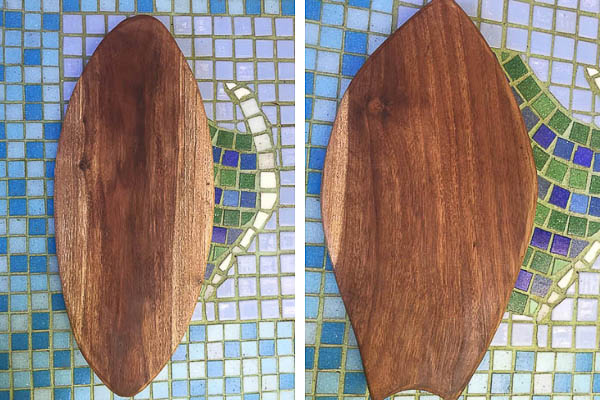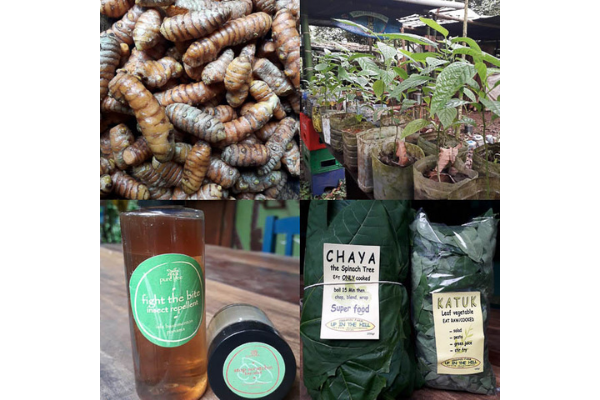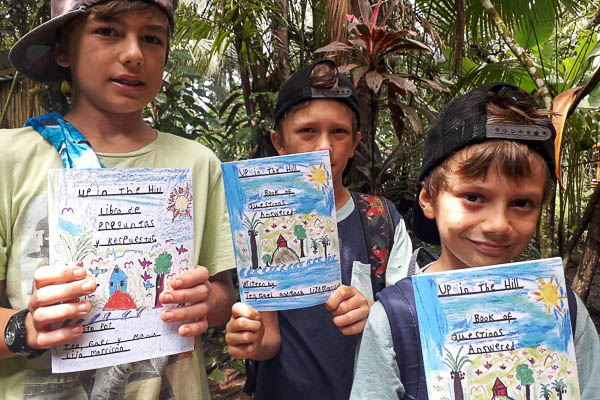 special gifts for family and friends
Unique Gift Shop, Many Handcrafted Local Items.
Our gift shop displays all of our farm offerings – ready to grab and go – as well as a selection of local Panamanian arts and crafts. We have homegrown laurel wood chopping boards, nature inspired mosaic art, pictures & postcards, as well as made to order furniture and handmade jewelry.
We sell cacao, teas, dried fruits, coffee, greens and trees, as well our Natural Body Products Line, Pure Tree! We are the best place in Bocas del Toro to find a unique souvenir for your friends and family back home!
"Gem in the Jungle'' Our Reviews...
Wow! Wow! This place is insane. We got the know Up the Hill via via because it's not really advertised much in bocas town. But is so worth it!! Javier gave a tour trough there eco garden and explained about every flower, plant and tree. At the end you can taste many of plants, fruits, coffee and chocolate you've seen during a very nice lunch. We loved everything about it!! Many thanks to Up The Hill!

Wunderbarer Ausflug Ein Highlight auf der Isla Bastimentos! Super Tour und sehr interessant. Haben viel über die Pflanzen, Früchte etc. erzählt bekommen. Das Essen nach der Tour war ein Traum. Definitiv ein Muss wenn man mehrere Tage hier auf Bocas ist.

An experience not to be missed! What an incredible way to learn about sustainable organic farming. The place is a beautiful lush forest literally up in the hill on bastimentos island. Javier is so passionate about his work on the farm and is full of information about everything he grows there. He is very nice and funny too. At the end of the tour, you get to sample and taste a lot of different local products all grown and prepared at the farm and all very delicious. A really cool experience not to be missed.

Beautiful place and fun tour Fantastic tour! We loved learning about permaculture, sustainability, and walking around the property. Javier and Jeanette have such a beautiful thing there. We went on this tour Jan 2021 and they are open! Just contact them ahead of time. The food they prepared was amazing as well. This was one of the highlights of our trip to Bocas.You have to be ready for a decent hike, and it can be slippery and muddy so come wearing tennis shoes and be prepared for a fun few hours! You don't need to be in amazing shape or anything but able to walk uphill a bit. We brought our 2 year old son, and he did great! Kids are welcome there.

Amazing few hours on the farm Amazing few hours spend on the farm! Loved the tour, food and my skin loooves the organic coconut oil !!! Don't even get me started on the brownies!!!! Up on the Hill should be a must stop if you're happen to be on Bastimentos!

Unique and unforgettable experience This place is special and you should make it a must-do if you're in Bocas del Toro. Javier gave our group of four an incredible tour of their one-of-a-kind farm with an enormous variety of flora and fauna unlike anything I've ever seen. He and his wife started this place in 2002 and it's really remarkable what they've built. They are clearly very proud and passionate about their work, and their knowledge and enthusiasm shines through in the tour, gift shop, and the delicious (included) meal served following the tour.If you want a fun, affordable tour that doesn't feel the least bit "touristy", this is it. Highly recommended.
Fantastic farm tour in a beautiful tropical jungle setting The tour of this quaint but flourishing organic farm was definitely a highlight of our recent trip to Panama. We learned so much about the flora and fauna of the island, particularly about harvesting coffee and cacao, and especially self-sustainability. We saw several red tree frogs while out on the farm. The hike from the boat drop-off spot up to the farm was just enough of a workout to build up the anticipation of the tour. Following the tour, our hosts prepared a lovely and delicious meal consisting of a variety of fresh produce grown directly on the farm (my favorites were probably the papaya with mint, sweet bananas with shaved cacao, and fried yucca with hot chili pepper sauce). The hosts - a husband and wife team - were fully accommodating both while scheduling the tour and during the actual visit itself (their adorable dogs tagged along for the tour as well), and it was impressive to see how the hard work that they've put into the farm has very much paid off. If you're planning on staying in the Bocas del Toro area of Panama, I would highly recommend getting some sturdy shoes, water, and plenty of bug repellant and paying this place a visit.

Best. Tour. Ever. Both the tour and "snack time" were absolutely amazing. You do need to be in half-way decent shape to get all the way to the highest point on Isla Bastimentos -- so wear your hiking boots or shoes and bring water. Amazing tour (starting at 10:30 -- make a reservation) and gift shop. What a beautiful and inspiring place. Some of the best, freshest organic food on the planet. I cannot recommend this highly enough. Wow. Wow. Just wow.

Small-Island-Nation
2020-12-15
Kakao ist klasse Auf dem umWeg zum wizard Beach ergab sich eine kleine Wanderung mit Zwischenstopp auf der Kakao Farm. Eine Führung auf der Farm ist möglich und der Kakao ist eine willkommene geschmackssensation.

A Farm Like No Other A diversely expansive organic farm?!? What else needs to be said? With just a short hike, you are blessed with the grandeur of a farm expertly integrating permaculture and self sustainability. While walking through nature's pantry, your guide introduces your palette to new flavors and textures by pointing out edible leaves, roots and flowers around you. His expertise allows you to taste a faux-garlic plant, turmeric and sweet leaves to name a few. After the tour of the farm, a lavish spread of soup, fresh bread, and fruits and vegetables from the farm is served. It was a refreshing end to a tiring day.The brownie was the best thing I have ever eaten in my life. I dream about this brownie and will not forget it.
Rational Consumer
2020-03-14
Experience the Rainforest at Our Eco Lodge!
Immerse yourself in the Panamanian rainforest with a few nights at our top rated eco lodge. 
Learn More