[wtr_animation animate="wtrOpacityNone bounceInLeft" animate_delay="300″]
COFFEE
[/wtr_animation]
[wtr_animation animate="wtrOpacityNone bounceInRight" animate_delay="300″]
SHOP
[/wtr_animation]
[wtr_divider type="invisible" height="5″ margin_top="0″ margin_bottom="20″ animate="none" animate_delay="0″]
[wtr_three_fifth last animate="wtrOpacityNone fadeIn" animate_delay="500″]
Local Handmade Products Gift Shop
Our Coffee Shop offers a delicious menu with natural drinks taken from our farm, as well as teas, chocolate beverages, homemade kombucha tea, fruit juices (jack fruit, pineapple, passion fruit, noni, and much more) and gourmet coffee from Boquete.
Enjoy delicious brownies and truffles made with out 100% pure organic cacao.
In the gift shop you will find our natural body products line Pure Tree, as well as local crafts such as jewelry, wooden art, postcards, t-shirts, and more.
[/wtr_three_fifth]
[wtr_two_fifth animate="none" animate_delay="0″]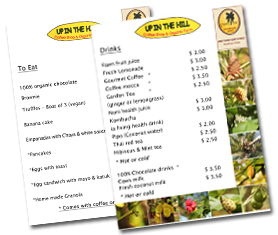 [wtr_icon type="fa fa-search-plus" color="f7941e" align="left" size="20″ float="left" margin_left="100″ margin_right="-100″ margin_top="0″ margin_bottom="0″ animate="none" animate_delay="0″]Download our Menu
(click below)
[/wtr_two_fifth]
[wtr_divider type="invisible" height="5″ margin_top="0″ margin_bottom="20″ animate="none" animate_delay="0″]
[wtr_one_full animate="wtrOpacityNone flipInY" animate_delay="500″]
The Coffee Shop at Up in the Hill
[/wtr_one_full]
[wtr_gallery type="alternative" color_bg="ffffff" padding="off" id_gallery="5130″ animate="wtrOpacityNone bounceIn" animate_delay="400″]